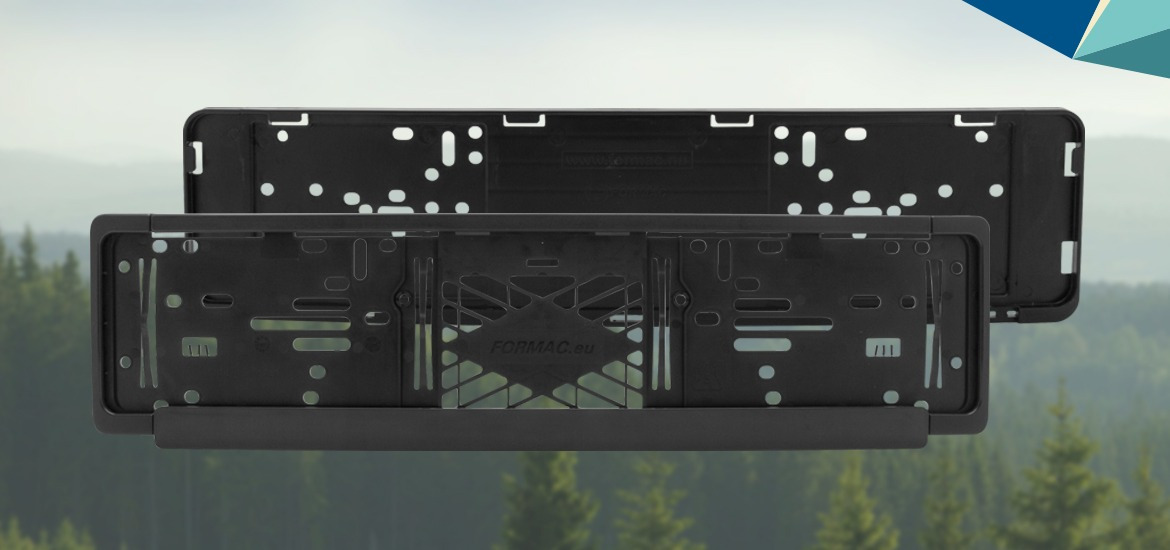 Now all cars in Sweden are becoming a little more environmentally friendly
Plastic – a flexible, light and cheap material from which an almost unlimited number of different products can be made. The possibilities are numerous. However, plastic can also have a negative impact on nature if we do not act responsibly and do not manage the material in a sensible way.
We at Formac have therefore decided to take our share of the responsibility and to work even harder at minimising our impact on the environment.
We have already started
We took the first steps in the process around two years ago when, in partnership with our suppliers and following a substantial period of testing, we switched from conventional to 100% recycled plastic granules in Formac's best-selling registration plate holders and advertising strips. The result is that products found on an overwhelming majority of all Swedish passenger cars now have less impact on our environment.
An interesting development in the area is Volvo's ambitious project using recycled plastic, where a specially-built XC60 T8 plug-in hybrid SUV shows the possibilities for the future, and where Formac's registration plate holder itself embellishes the vehicle.
After many hundreds of thousands of products manufactured in Sweden, Finland and Norway using recycled plastic, we are proud of having implemented this change, while at the same time we have maintained the high quality standards that our customers have become used to from Formac products.
Now we are taking the next step
Over the coming years, we will further reduce our climate footprint and will therefore be switching an extensive part of our product manufacturing to sustainable alternatives. The focus will be on recycled plastic, biomaterials or other climate-smart alternatives. At the same time, we will work to increase energy efficiency in the manufacturing process and to improve communication with our customers on how to recycle Formac's products.
To us, one of the most important aspects in this process of transition to more environmentally friendly options is that we will never make compromises in terms of either product price or product quality. Our registration plate holders and advertising strips are good examples of this and provide an insight into our work in the future.
The targets that we have set ourselves are high. During 2020, we will have switched production of our best-selling products to more environmentally friendly alternatives, thus minimising Formac's impact on the environment and climate.
Together with you, our customers, we look forward to taking further steps towards a more sustainable future.
For more information on Formac's environmental work, please contact Jacob Hermansson, CEO.